Another article by Leith van Onselen @ Macro Business that I thought worth sharing.
I don't know about elsewhere but Perth rents are on the decline & vacancy rates are rising. Sooner or later investors will wake up & realise the capital growths of the past cant be sustained because significant parts or the market (FHB) are priced out because they themselves have inflated prices beyond their reach.
By Leith van Onselen
Things have gone from bad to worse for Australia's first home buyers (FHBs), with Friday's housing finance data for August, released by the Australian Bureau of Statistics (ABS), revealing record investor mortgage demand amidst the share of loans to FHBs falling to an all-time low.
According to the ABS, the value of investor mortgages hit a record $127.4 billion in the year to August 2014, up 29% on the year to August 2013, with the share of mortgages (excluding refinancings) going to investors also hitting a record high 47.4% over the year (see next chart).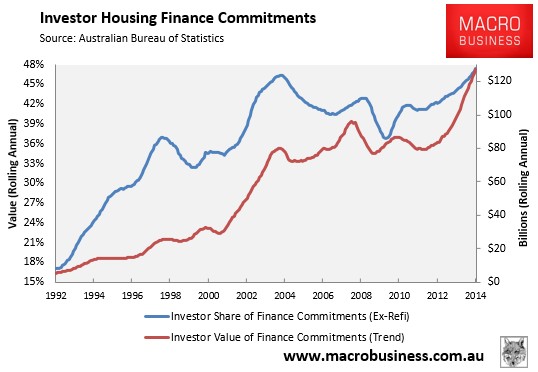 Meanwhile, the number of FHB mortgages slumped by 13.0% in the year to August 2014, with the share of mortgages to FHBs also declining to a record low 11.8% (see below charts).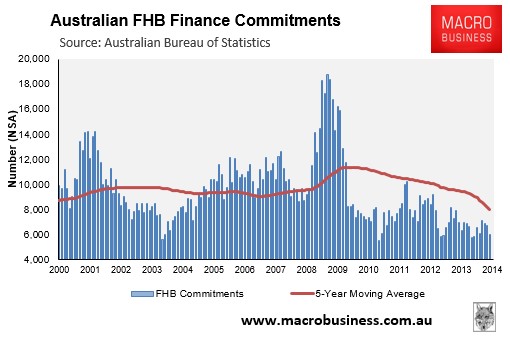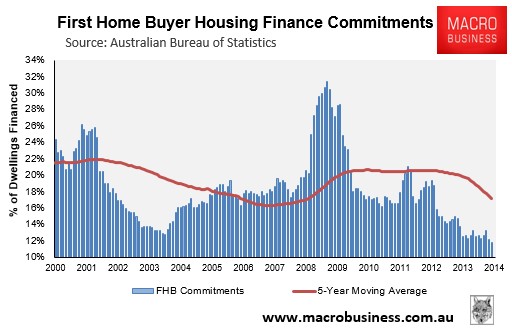 The next chart summarises how investors continue to crowd-out FHBs, with an obvious inverse relationship existing between the two buyer cohorts: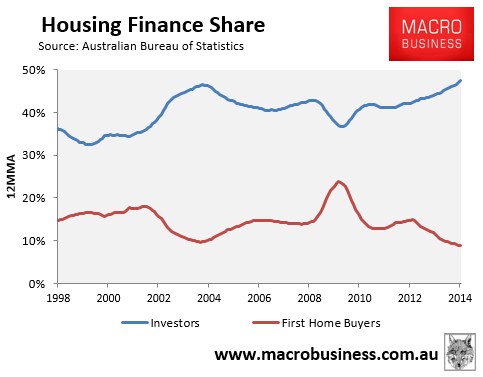 Essentially, property investors are gorging themselves whilst Australia's FHBs watch from the sidelines, starving.
unconventionaleconomist@hotmail.com
www.twitter.com/leithvo